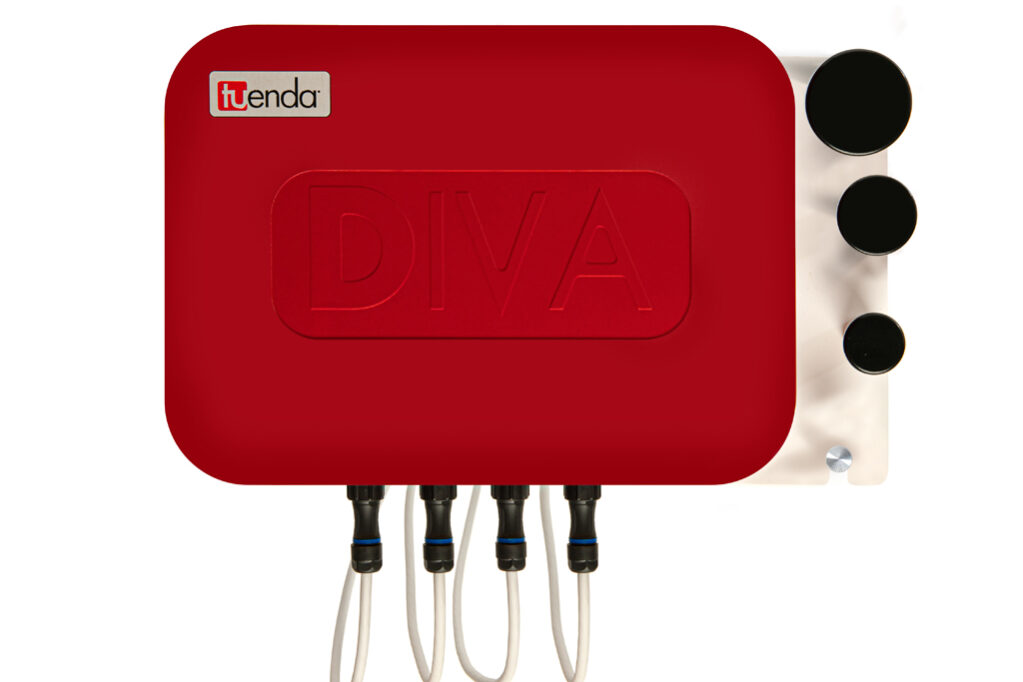 Aesthetic Medicine - DIVA ER
TUENDA DIVA ElectroRadiofrequency is a high-performance device that lets you restore a natural and pleasant appearance in a completely non-invasive but different way!
How it works:
DIVA ER supplies two types of energy:
Multi-Frequency Stimulating Currents
Radiofrequency at 470 Khz.
The combined action of the two energies in succession on the deep tissue really helps trigger biostimulant metabolic processes to produce young collagen and firm the treated tissue.
Its targeted stimulation on existing collagen fibres and fibroblast production of young collagen provides an immediate effect in terms of increased dermal density, and a notable greater compactness in skin texture. It has effective and lasting results on: face and body skin laxity, expression lines and deep or shallow wrinkles.
The effects are visible after the first session:
skin firming
face, neck and décolletage lifting
body reshaping
wrinkle treatment
reduction of face and body skin laxity
The typical treatment programme involves 6 sessions, 2 per week.
An individual treatment lasts 30 minutes. The programme can also be personalised.
Radiofrequency Energy: firms and tones the tissues of the face, neck, chin, arms, stomach, hips, legs, buttocks, calves and abdomen.
The treatments are targeted and customisable, painless and totally non-invasive.
What about design and materials?
DIVA ER has a simple, modern and elegant design. Made entirely from finely anodised aluminium, it has an ice white Corian® handpiece holder.
No more burns!
Book your demo
Capacitive Handpiece Body diameter 60 mm.
Capacitive Handpiece Body diameter 45 mm.
Capacitive Face-Body Handpiece diameter 35 mm.
Semi-Resistant Face Handpiece diameter 15 mm.
Disposable self-adhesive conductive electrodes
Synthetic chamois electrodes
Bipolar conductive cable, Clips model.
Stainless steel neutral electrode plate with conduction cable
Dedicated Tablet and App
DIVA ER is the only Electro-Radiofrequency device with ETC Self Control to ensure adequate and safe treatment power. The operator can therefore concentrate only on the area to be treated.
ETC is the Automatic System for controlling temperature and managing the energy used on the customer, ensuring that the set temperature remains constant throughout the entire session.
The treatment management software is all in one app, intuitive and easy to use. CE 1370 Medical Device.
Book your demo
We want to offer everyone the benefits of a continued and evolving research in the field of aesthetic medicine and physiotherapy by transforming these ideas into products that help to improve the quality of life of our clients.